Valentine's Day Jewellery Gift Ideas 2024
---
How will you celebrate love this Valentine's Day?
Whatever you think, 14 February is the most romantic day of the year. It encourages even the most shy to declare their love. Valentine's Day celebrates Love with a capital A, but love in all its forms.
A soul mate can be a friend or a family member. Take advantage of this day to melt the heart of someone you care about. L'Atelier d'Amaya offers you a few ideas to make your next Valentine's Day a special one.
---
---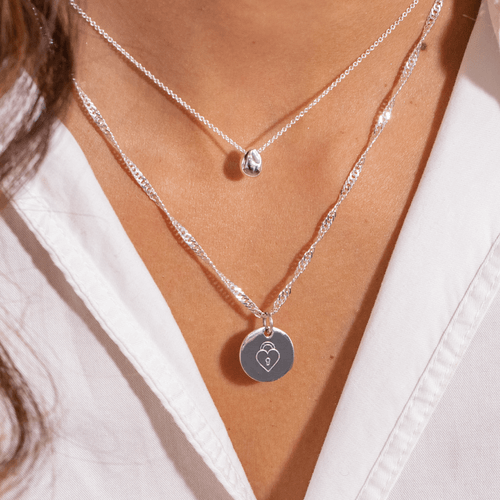 ---
How to please Madame?
Bold, adventurous, romantic, funny, passionate, Madame may be all of these things at the same time? Unique and bewitching, exceptional and inspiring, all these traits of her personality captivate you and at the same time make you admire her. On this special day, your only wish is to fulfill her desires and bring out her most beautiful smile. You know what? We'll help you do it!
With our selection of jewellery for her, no faux pas will spoil the day! Whether they are in 925 silver, 18 carat 3 micron gold plated, 3 micron rose gold plated or embellished with fine stones, our nuggets are the perfect gift to declare your love for her.
---

---
---
---
What are the best gifts ideas for men?
Let's stop with the clichés! He likes to be touched in the heart, especially when the arrow comes from his other half. It's high time you honoured him too, and our selection for him will help you do so. Whatever his style, romantic, rock, classic, seductive, our workshop has inevitably one of the Valentine's Day jewels that will make your half fall in love. And what if you slipped him a little sweet note?
With our personalised jewellery, write a date, a word or initials that only you can make out. Let your heart speak and symbolise your love on one of our engraved jewels.
---
---

---
---
---

What does a special Valentine's day look like for L'Atelier d'Amaya?

In addition to Valentine's Day gift ideas, here are some tips to brighten up this future day:
Prepare a brunch with all her favourite dishes, slip her a little sweet note, concoct a cocooning moment, bath, massage, sauna, relive your most beautiful memories by looking at photos, videos or simply by remembering your first meeting.
And finally, offer her a piece of jewellery from L'Atelier d'Amaya to end this day in style!
And even if, after all these gift ideas, you still have doubts, give her the L'Atelier d'Amaya gift card. Your other half will be able to indulge herself in a simple way, in the shop or on our website. No risk of making a mistake! See you at L'Atelier d'Amaya for Valentine's Day 2024.
---
---
---
---